The Move and Yield community is my new operating business
Read more about the making and the mission of Move and Yield.
Drawing Inspiration from:
Pilates, functional fitness, intuitive movement, dance, and play
Building variety, frequency, and awareness in our movement practice
Connecting to nature and spending time in outdoor spaces
Teaching compassion, capability, and kindness to ones body
Thoughtful introspection and turning inward to discover our inner desires
Moving the spine in all directions and exploring movement possibilities
Beauty that surrounds us in one another, nature, and within ourselves
Simplicity, sustainability, and minimalism
Time to rest and honor a sabbath in our own lives
Curiosity and creativity about what our artistic expression is in this world
Daring to play to access joy and delight in life
A holistic approach to wellness that considers mind, body, and spirit
Setting intentions in our movement practices and lives
Community Offerings:
Online Pilates-informed movement mat classes
Bi-monthly book club meetings on themes surrounding Move and Yield
One-on-one sessions, virtual and in-person
Small group movement series
Custom workshops and presentations
Outdoor Pilates Mat and Movement Classes
Movement Meet-ups in natural settings
Instagram inspirations and content @courtneyannemoves
A newsletter with articles, musings, tips, and upcoming events
Adult modern dance/embodied movement classes
Virtual One-on-one Movement Lessons
Customized one-on-one movement lessons that meet virtually on either ZOOM or FaceTime. Courtney Anne has coached students one-on-one since 2010 with highly specialized training and individualization. Sessions are informed by the Pilates Method, functional fitness, intuitive movement, posture, strength training, mobility, and play. She uses a holistic approach to wellness in teaching that consider the whole student: mind, body, and spirit. Together we will work to building variety, frequency, and awareness throughout your movement practice.
Sessions will utilize the equipment that each student has available to them at their homes and can include items such as: Pilates apparatuses, hand weights, foam rollers, rings, therabands, and other fitness equipment. No equipment is required for training, but will just provide additional options for the sessions. Just your body and presence required.
To stay aligned with her personal values, Courtney Anne opens herself up to a very limited number of sessions weekly.
Current sessions are available on Mondays and Wednesdays 7am, 8am, 9am, Wednesday 10:15am, and Fridays 6:30am, 7:30am, 8:30am.
Sessions can be 25-minutes or 50-minutes in duration.
Begin your journey by booking your first session.
Self-Paced Pilates Mat Class Series
A few times a year, Move and Yield Offers a month-long self-paced Pilates mat class series. Each week, receive a new workout that you have access to for the whole week. After the four weeks conclude, we end the series with a live ZOOM class to finish out the session. All 5 classes are included in the price of the series.
When you sign up for this series, each Monday for 4 weeks you will receive an e-mail with a link to a Pilates Mat Workout Video that you will have access to the whole week. Each workout will be between 30-45 minutes in length. Complete the workout as many times as you'd like throughout the week. The e-mail will also send you a Move and Yield challenge to try and complete by the end of the week. The four-week series will conclude with a live MOVE class on ZOOM which is included in the price of registration.
If you want to be first to hear about our next self-paced series, join the mailing list for our monthly newsletter.
Virtual Group Movement Class on ZOOM
Join Move and Yield on ZOOM for our MOVE classes, YIELD classes, or the Move and Yield Book Club!
Clicking the class link will bring you to a the checkout for that event. Items can also all be found on my https://move-yield.square.site/ on the bottom listed at "featured items". So save the above link to find access at any point. ***
Class run times are 50-minutes in duration, but we build in 5 minutes at the beginning and end of class to account for technology and concluding class.
***Recordings of any of the sessions will be available for playback if you cannot make the scheduled time. Upon checkout in the "add a note to seller" note that you cannot attend in person, but would like the recording after the session. Link will be sent to you and available for one week.
MOVE classes on ZOOM
50-minute movement classes based around various themes or props. MOVE classes are designed to get you moving and deliver a well balanced workout. Drawing inspiration from Pilates, functional fitness, nature, intuitive movement, dance, and play. Be ready to experience full body movement, connect to your center, move the spine in all directions, and explore working out with a sense of curiousity.
Upcoming MOVE Classes
Visit back for the next available class times!
YIELD classes on ZOOM
50-minute movement classes based around various themes or props that are designed with a focus on physical restoration, opening up the body, and slowing your mind. YIELD classes will help you create a more embodied existance throughout your day and provide a space and time to go inward and assess your physical experience in this world. Slower paced, internally focused, tapping into sensations, somatic-based, and aiding to quiet your mind and body to take notice.
Upcoming YIELD Classes
Visit back for the next available class times!
Not sure on the differences between MOVE and YIELD Classes?
You can think of MOVE classes as a way of quickening and enlivening your body, and YIELD classes as a means of slowing and bringing yourself back to a more internal connection. MOVE classes are a means of physical expression and YIELD classes are a means of personal assessment. All Move and Yield movement classes will emphasize a mind-body connection, dynamic alignment, and whole-body connectivity.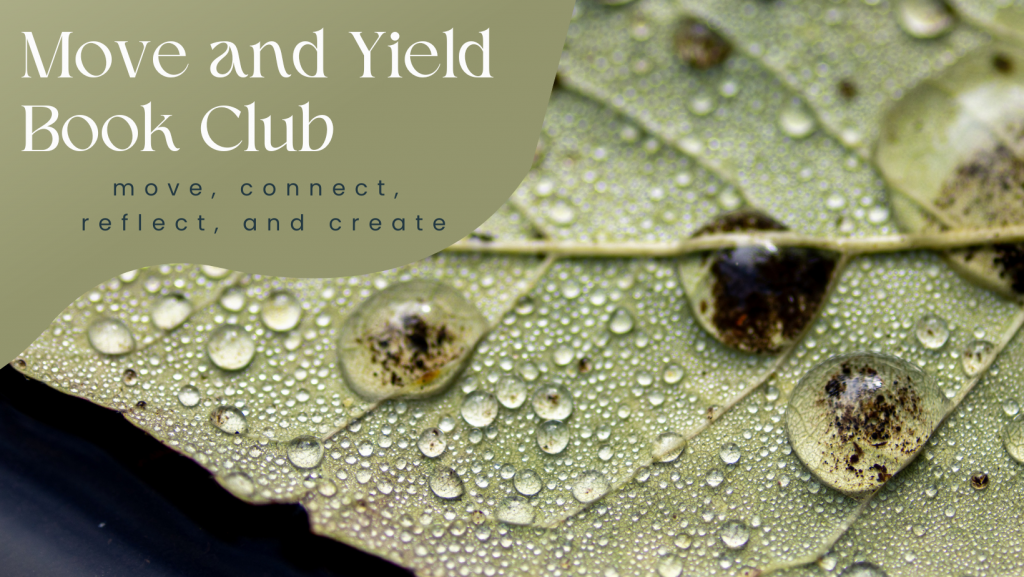 Move and Yield Book Club
A book club that virtually meets bimonthly to discuss a book surrounding various themes surrounding the Move and Yield community. Books will vary in topics relating to: movement, nature, creativity, community, personal introspection, and mindset.
We will read both fiction and non-fiction titles and join together as a small group for a 90 minute meet-up on ZOOM for an open discussion on concepts presented in the book, guided questions, and hive-minding applications to our daily lives. The session will culminate with an activity led surrounding ideas from the book. Format for the gathering will include: warm-up, group dialogue, guided reflection, and creating. Together we will move, connect, reflect, and create.
After signing up, you will receive snail mail with a short reading guide/prompts, supplementary material, a list of any supplies you'll need for the activity at the meet-up, and a small gift.
Virtual Meet-ups will happen on ZOOM from 6:00-7:30 PM CST. Meetings will occur in January, March, May, July, September, and November.
Hosted by Courtney Anne Holcomb, movement educator, Pilates teacher, dancer, creative, nature enthusiast, and creator of Move and Yield.
Upcoming Book Clubs
New list of reads will be revealed soon!
Frequently Asked Questions about Virtual ZOOM Classes:
I cannot make the schedule time for the class to join the live virtual class, can I still sign-up and receive a recording? The answer is YES! At the checkout, just put a note in the "Add a note for the seller" (see arrow in photo below) to let me know you won't be attending in person and would like the e-mailed recording. Then I will know not to wait for you to join the live class.
Why is an hour blocked off for the class if the session is 50-minutes long? I schedule one-hour for each class to help account for technology and everyone getting into the ZOOM room. This builds a buffer of 5 minutes at the beginning of class to make sure microphones and audio are working well for everyone, and then 5 minutes at the end to conclude class and transition. Please still log-on a few minutes before the session start time and I will admit you into the ZOOM room.
Do I have to have my camera on during class? Having your camera on is not essential for the group classes, but absolutely welcome. It can be helpful for me to see participants moving to make sure everyone is understanding the cues and exercises being delivered. But since the emphasis of our group classes is moving together instead of individualized feedback, having your video on is not necessary.
How do I sign-up for a class? All of our online registration is handled through Square. When you click on an item, you select "Attend" and it will be added to your cart. If you are signing up with a computer, you can then click "add more items" and be brought back to the Featured Items to add more classes. To check out, you will need to click the shopping cart icon in the top right corner, and follow the prompts for checking out.
How can I find the upcoming classes? All upcoming classes will be available as "Featured Items" at the bottom of the Move and Yield Square Site. You can scroll through and find each of the classes and formats anytime by saving this link. This is also the link you can use to reserve One-on-one virtual movement sessions with Courtney Anne, and see her open availability.
This is my first time attending a Move and Yield class, do I need to sign anything? Yes, after signing up for your first class with Courtney Anne Holcomb and/or Move and Yield, you should receive an e-mail within 48 hours that contains a virtual contract to sign that contains a waiver of liability and informed consent form. Please fill this out and submit before your first session.
What is Move and Yield's ZOOM Room? Each class will meet in Move and Yield's personal ZOOM room which will always be this link: https://us06web.zoom.us/j/5506582862 save this link on your laptop, phone, or post-it, and you'll always know where to go to join in for you classes.
In-person Pilates One-on-one Lessons
Courtney Anne is available in Sheboygan, WI teaching one-on-one sessions at Core Connection Pilates on Mondays and Thursdays. Sessions utilizes premium Pilates equipment such as the Pilates reformer, trapeze table, chair, barrels, and small props. Sessions can be booked through Core Connections webpage. She also teached a small group equipment class Mondays at 12:15-1:15pm, and a reformer class Thursdays 5:15-6:15pm. To check for openings in small group classes, e-mail: classes@ccpilates.studio