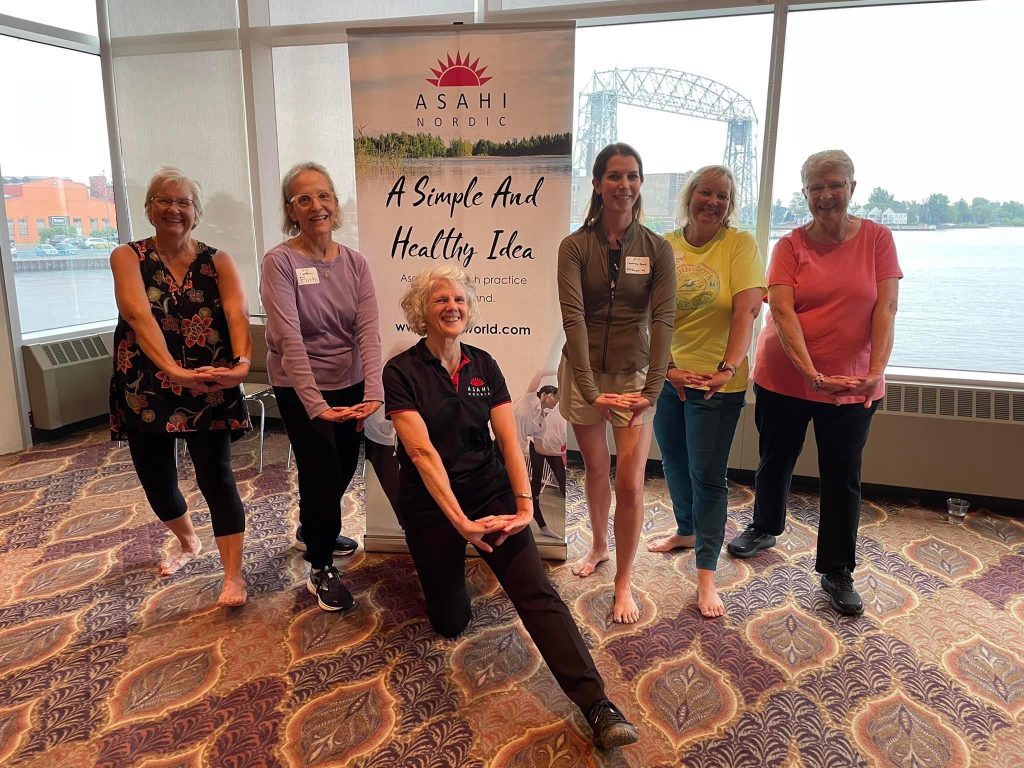 Finnish Roots
In July 2023, I had the privilege to attended FinnFest 2023, and complete my Asahi Nordic Level-C Asahi certification. What is Asahi? It's a health exercise method that was developed in Finland in 2004, and I came upon it online one day and my interest was immediately peaked. You see, my mother's parents, Elmer and Maj-lis, immigrated to the United States from Finland in 1959. My mother, 100% Finnish along with both of them, and myself 50%. Growing up, I felt deep ties to my Finnish heritage and Scandinavian roots, but hadn't spent too much time exploring on my own. In my grandparents home I was surrounded by beautiful wall hangings, rag rugs, Finnish foods, and prayers and phrases that we would say when spending time with them.
Movement throughout my life
I've been in the movement space my whole life, dancing since age three, playing soccer since age nine, working out since age twelve, taking Pilates since age thirteen, and exploring so many various movement modalities with great curiosity. I started teaching dance at age fifteen, and started my Pilates teaching journey at age twenty. My favorite thing about movement is my belief that movement is for everyone! Finding ways to make movement accessible to the largest amount of people feels like a noble calling for me. This is one of the main reasons I got drawn into the world of Pilates. It's ability to help so many populations with its equipment to safely move and build strength in their bodies. To regain confidence in their identities as movers.
In over a decade of Pilates instruction I've worked with students ages six through late eighties, all with different goals and strengths. I've served students with neurological conditions, joint replacements, arthritis of all kinds, mental disorders, cancer, pre-operative, post-operative, pregnancy, spinal conditions, athletes, dancers, low self-esteem, caretakers, doctors, business owners, parents, grieving, soon-to-be-wed, and everything between. I always would make the joke that I've certainly heard of every single health condition and diagnosis at this point, but then the next week I'd have a new student with a new condition walk in the doors.
Asahi is for All!
When I first read up about Asahi I was most excited at its accessiblity for all. No equipment is required, its ease of learning with no experience needed to pick it up, its focus on breath as central, the mind-body connection it promotes, and the ability to perform it outside. Being able to workout and move outside has become a high value in my life, and I believe provides a deeper connection of self to the world around us. The word Asahi is actually a Japanese word that means "morning sun," and this practice was named as such to signify the energy we can get through both exercise and spending time outdoors. The book Asahi – The Nordic Health Practice shares "the movements of Asahi are basically relaxing and are designed to gently increase muscle stamina, balance, coordination and concentration."
One of my mottos and charges is to encourage more movement, varied movement, daily. Asahi fit the bill perfectly for this. From beginning to end, you can easily practice the sequence daily in 10-15 minutes depending on how many repetitions of each exercise you perform. I learned two Asahi series: Asahi #1 and Asahi #2. Each series has the same four sections: relaxation, neck and shoulders, back, and balance. Each section is comprised of three total exercises. So all in all, a single series has 12 exercises that are performed in sequence, with a breathing exercise to start and end each section. Though all can benefit from doing Asahi, the number one population that I believe this benefits is the aging population. The exercises were developed by exercise and geriatic specialists to ensure that risk of injury is super low and the outcome of benefits of performing the exercises is extremely high.
Sharing Asahi with others
At the workshop we led at the conclusion of our training, we had close to 100 participants join us for Asahi (see photos below). Everyone was able to do it. We had participants in wheel chairs, with walkers, people in their 90s, children of elementary age, and everything between. Staring out at the crowd of people all gathered to move together made my eyes glisten. This is what movement can do, it literally can move people.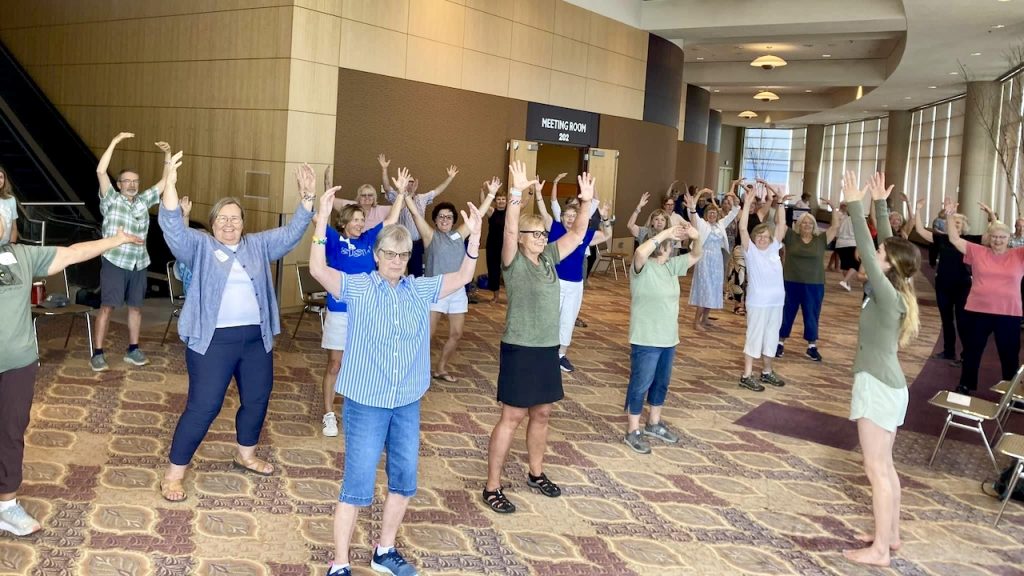 I'm excited to see what doors having my Asahi Nordic certification will open. I am currently one of around thirty instructors certified in the United States. Being at the forefront of this training is an exciting way for me to connect to modern Finnish heritage and carry my roots along with me. For more information on Asahi, visit their website. If you'd like to host me to teach a class or know of places and spaces that Asahi might be a good fit, I'd love to hear from you: courtney.anne.holcomb@gmail.com
-Courtney Anne Holcomb, Asahi Nordic Certified Instructor, C-licence, Sheboygan, WI